Relax and re-vitalise with a 10-30 minute seated massage in your workplace.
Our massage technique is:
Seated (performed on a specially designed ergonomic massage chair).
Fully clothed (no messy oils are used and clothes are kept on).
Designed to relax AND reenergise.
Portable, accessible and perfect for the workplace.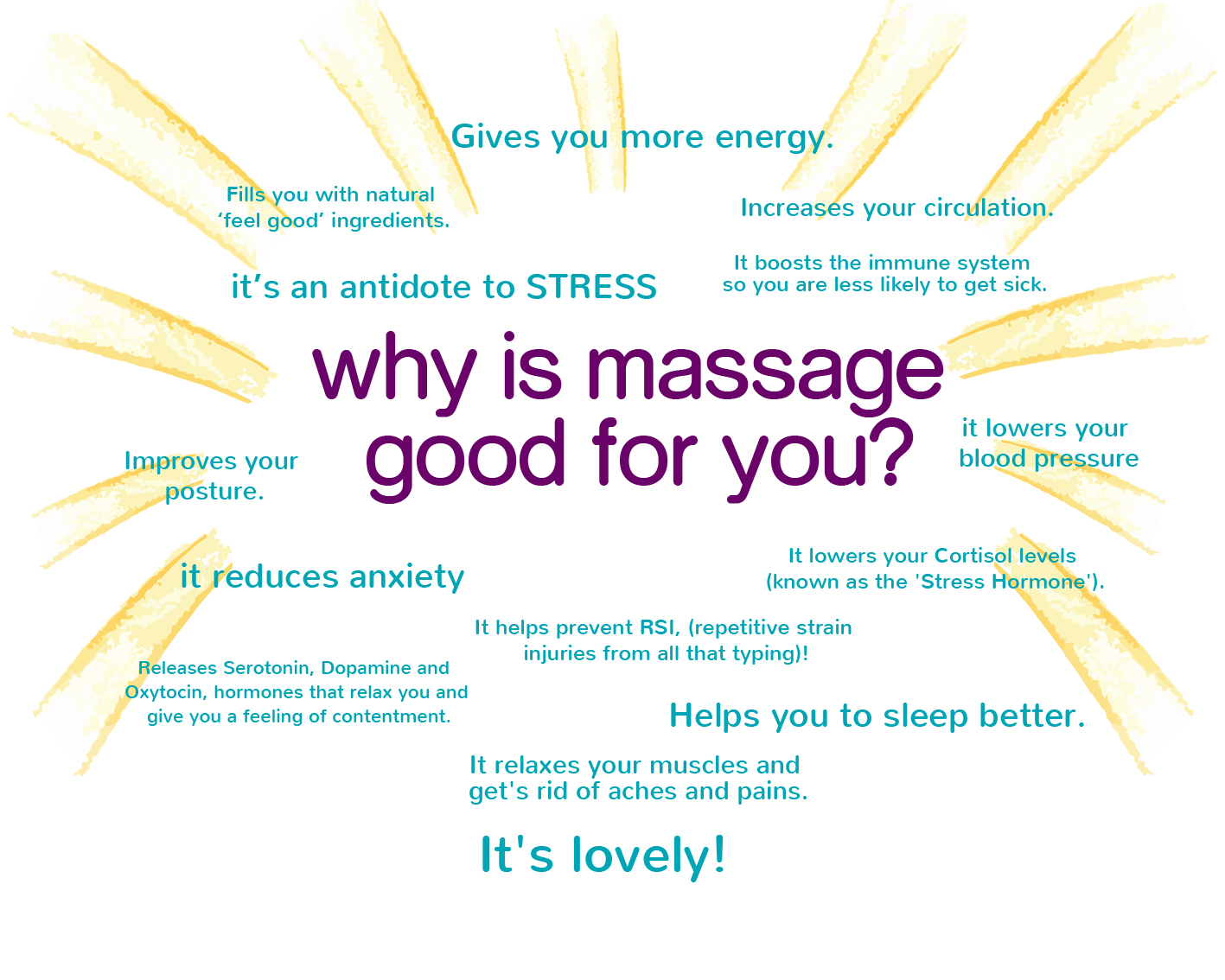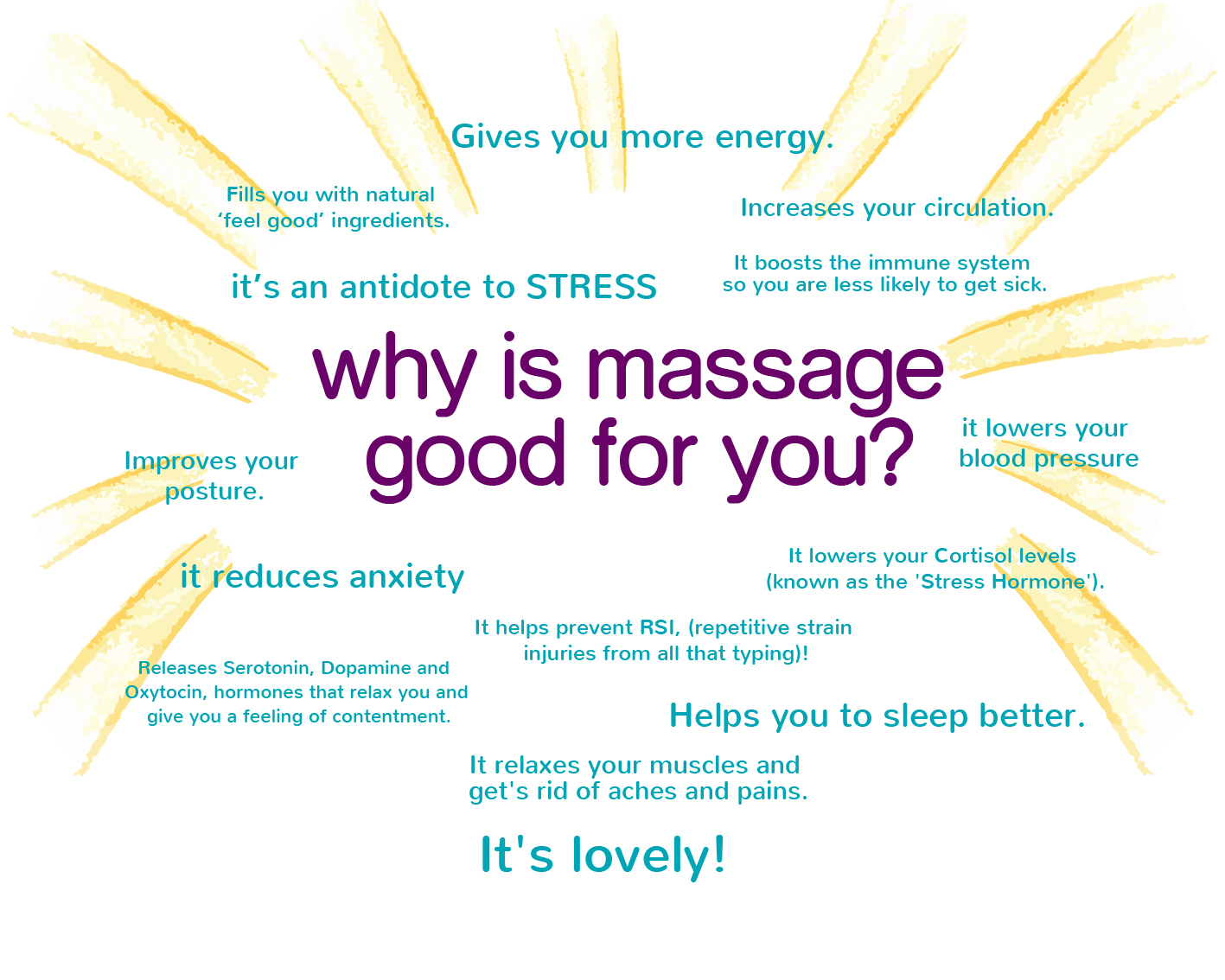 why is massage good for the workplace?
Stress prevention

Elevated moods, make for a more communicative work environment. 

Employees feel valued and more inclined to go that 'extra mile.'

Employees are energised and focussed.

Healthy postures give a more confident and professional impression

Focus + energy + positivity= increased productivity
It's 4pm - Time for your massage!

You are greeted by one of our Stressbusters. You sit down on our portable ergonomic chair. It takes the weight of your knees, back, arms, head. Your body sinks into it.

You feel pressure...

...not pressure from work. Or home. Acupressure. Pressure that encourages your muscles to relax. That tells the tension in your body to disappear. That makes you take deep slow breaths. The pressure moves around your upper body, working on the problem areas where you carry your tension.

You feel utterly relaxed...

you feel a light squeeze on your shoulder and you are told to slowly sit upright. You become aware of your surroundings. The tempo of the massage is faster and begins to energise you. Your body is stretched, reminiscent of a lazy morning stretch.

Your eyes open...

Your mind is clear. You feel calm, focussed and energised. You look at the clock. It's only been 20 minutes.
TouchPro is the original chair massage technique that has been tried and trusted for over 30 years. It is a technique designed to get high results in a short amount of time. With relaxation, energy and efficiency at its core, it is the perfect workplace massage.
we have a strict hire policy
All of our Stressbusters are fully qualified massage therapists.
They are trained in the TouchPro technique, and are fantastic at what they do.
You are always guaranteed a high standard of massage and all our Stressbusters are fully insured.
we are the most experienced
We were the first office massage company here in the UK. We have over 25 years of experience and have massaged tens of thousands of people in all industries in the UK and abroad.
Our prices are based on the amount of time our Stressbusters are with you. The length of each session depends on how many people you would like to receive a massage.
When scheduling your appointment times, please include a 30 minute break for your Stressbusters every 2 hours. We like to look after the wellbeing of our workers too! This is not charged to you.
Number of hours:
15 min
massage
sessions
20 min
massage
sessions
30 min
massage
sessions
Cost
5
20 total sessions
15 total sessions
10 total sessions
£350
3.5
14 total sessions
10 total sessions
7 total sessions
£280
2
8 total sessions
6 total sessions
4 total sessions
£180
We are rather picky about our Stressbusters and only use the best. This means that they are often in high demand, so if you have a particular date in mind please give us as much warning as you can.
Please note there is a 15% surcharge for Weekends and Evenings after 6pm, (we think our Stressbusters deserve a little extra if they are working out of office hours).
to find out about the other styles of massage we offer have a look at our wellbeing days page or get in touch…